World Standard Facilities For The
World's Best Cars.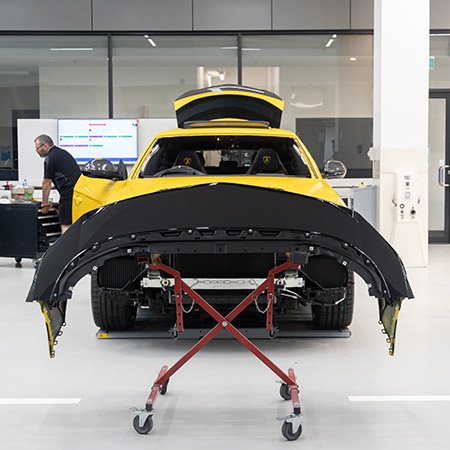 World Standard Facilities
For The World's Best Cars.
The best people, working with the best tools, will do the best job.
That's a simple idea, but a big investment.
Even the smallest dimensional deviations can affect how a car drives. Our computerised straightening and re-alignment jig attaches to the car body to return all dimensions back to the original manufacturer tolerances…It's adjusted within millimetres.
All our paint re-finishing is performed in temperature-controlled booths with state-of-the-art extraction and lighting technology. Our computerised on-site Colour Lab allows us to hand match your cars exterior paint finish using the same paint the original manufacturers used. We use Sikkens, PPG and Glasurit products, with dedicated colour matching systems for each.
Variation between paint brands might seem like a small difference, but the small differences matter to us. And they should to you too.
Heirlooms, History
and Respect.
It's an old maxim among car collectors: 'You only have originality once'. Restorations can increase a unique car's value – or lower it if the work is rushed or ill-considered. Over-restoration can actually lower a car's value too.
What makes a car special and the goals of a restoration are different for every project and every customer we work with. Yes, it's a collaborative process.
Small decisions can have a huge impact on the final result.
And there is no such thing as a 'cookie-cutter' approach.
We have restored everything from priceless Ferraris to an original Japanese-market Nissan Sylvia. If the car matters to you, it matters to us. Our team have an extensive knowledge and experience in every build method, era, marque and material.
If you'd like to discuss a project, call the Zagame Autobody Team to make a time and we can talk about your options.